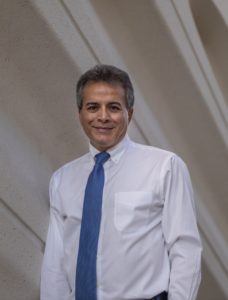 Mehrzad Boroujerdi was named Director of the School of Public and International Affairs at Virginia Polytechnic Institute and State University (Virginia Tech) in the summer of 2019.
From 1992 to 2019, he was a professor of Political Science at Syracuse University's Maxwell School of Citizenship and Public Affairs. During the 2017-18 academic year, as a Fellow of the American Council on Education (ACE), he resided at California State University – Northridge (CSUN) where he worked with the university's senior leadership.
Dr. Boroujerdi is the author of Iranian Intellectuals and the West: The Tormented Triumph of Nativism (Syracuse University Press, 1996), and I Carved, Worshiped and Shattered: Essays on Iranian Politics and Identity [in Persian] (Nashr-e Negah-e Mo`aser, 2010). He is also the co-author of Postrevolutionary Iran: A Political Handbook (Syracuse University Press, 2018), and editor of Mirror for the Muslim Prince: Islam and Theory of Statecraft  (Syracuse University Press, 2013). In addition, he has authored more than thirty journal articles and book chapters in English and Persian.
Before coming to Virginia Tech, Dr. Boroujerdi served in the following administrative roles at Syracuse University: Chair of the Political Science Department (2014-17), Provost Fellow for Internationalization (2015-17), Co-chair of the Internationalization Council (2016-17), member of the Academic Strategic Plan Committee and co-chair of its Working Group on Enhancing Internationalization (2014-16), Director of Graduate Studies in the Political Science Department (2001-04), Founding director of the Middle Eastern Studies Program (2003-14), Co-founder of the Project on Religion, Media and International Affairs (2006-09), and founding editor of the Modern Intellectual and Political History of the Middle East book series published by Syracuse University Press (1996-2014).
Dr. Boroujerdi has also been a visiting scholar at UCLA's Center for Near Eastern Studies (2017-18), President of the Association for Iranian Studies (2012-2014), member of the board of directors of the Near East Foundation (2010-19), co-founder of the Iran Data Portal (2009-present), a non-resident scholar at the Middle East Institute in Washington, D.C. (2005-16), the book review editor of the International Journal of Middle East Studies (2000-07), a Rockefeller Foundation Fellow at the University of Texas at Austin (1991-92), and a post-doctoral fellow at Harvard University (1991-92).
Dr. Boroujerdi has been the recipient of grants and fellowships from American Council on Education, Henry R. Luce Foundation, Princeton University, Social Science Research Council, the Institute of International Education, the U.S. Department of Education, and the United States Institute of Peace, and the Violet Jabara Charitable Trust. Other awards include the Foundation for Iranian Studies Best Doctoral Dissertation (1990), the Maxwell School's Daniel Patrick Moynihan Award for outstanding teaching, research, and service (1998), Maxwell School's inaugural O'Hanley Faculty Scholar (2014-19), and the Institute of International Education's Scholar Rescue Fund's Outstanding Service Award (2011).
Dr. Boroujerdi has been interviewed by numerous national and international media outlets such as Al Jazeera, Associated Press, Guardian, LA Times, NPR, New York Times, Reuters, Spiegel and Washington Post, and is a regular commentator on a number of Persian broadcasting networks.
To see his Persian-language website visit http://www.mehrzadboroujerdi.com